Kansas City is a large city in the central part of the United States. Kansas City is located in Missouri at the confluence of the Missouri and Kansas Rivers. Kansas City is a core city, around which a large urban agglomeration of the Kansas City Metropolitan Area is formed with a population exceeding 2.1 million people. The population of the city of Kansas City (Missouri) is estimated at 467 thousand inhabitants (2013).
Despite the fact that the city of Kansas City is formally located in the state of Missouri, a small (western) part of the city is located in the state of Kansas. The fact that on the other side of the Missouri River (to the west) there is another city bearing the same name Kansas City (Kansas) can lead to some confusion. Formally, it is an independent city with a population of 145 thousand inhabitants, but in fact it is a western suburb of the main city in the region – Kansas City (Missouri). By the way, about 50 more cities and towns in both states are named Kansas City.
Distances from Kansas City (Missouri) to:
St. Louis – 380 km
Oklahoma City – 480 km
Memphis – 600 km
Minneapolis – 660 km
Chicago – 660 km
Denver – 900 km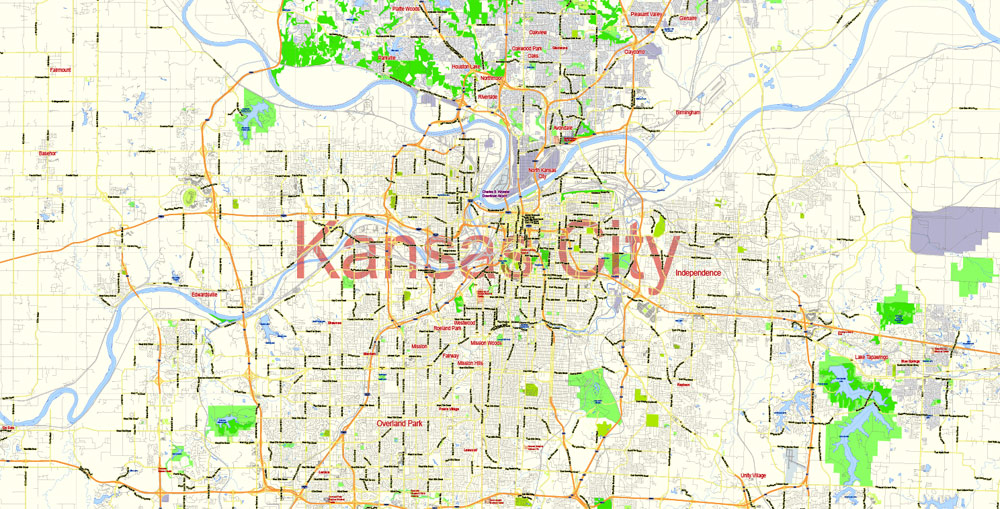 History
Kansas City began its existence in 1821 as a trading post but found its face during the beginning of an expansion into western lands. The Oregon, California Trails, and Santa Fe were met here by steamboats crowded with pioneers.
Jazz broke through in the early 1930s with the light hand of Mayor Tom Pendergast during the Prohibition period, when he allowed alcohol to be freely sold. During the peak period in Kansas City, there were more than a hundred nightclubs, dance floors, and variety shows, where jazz music in the style of swing (and booze) prevailed. The rampage ended after the tax evasion charges brought against Pendergast (the same way they got Capone), and everything largely subsided until the mid-1940s.
Attractions and outdoor activities
The state border divides Kansas City into two cities: CS Missouri and CS Kansas (conservative suburban sprawl has little to offer travelers). Kansas City Missouri has several distinct neighborhoods, including downtown, with Art Deco architecture. In the Quality Hill area, near W 10th St and Broadway, there are huge restored buildings from the 1920s.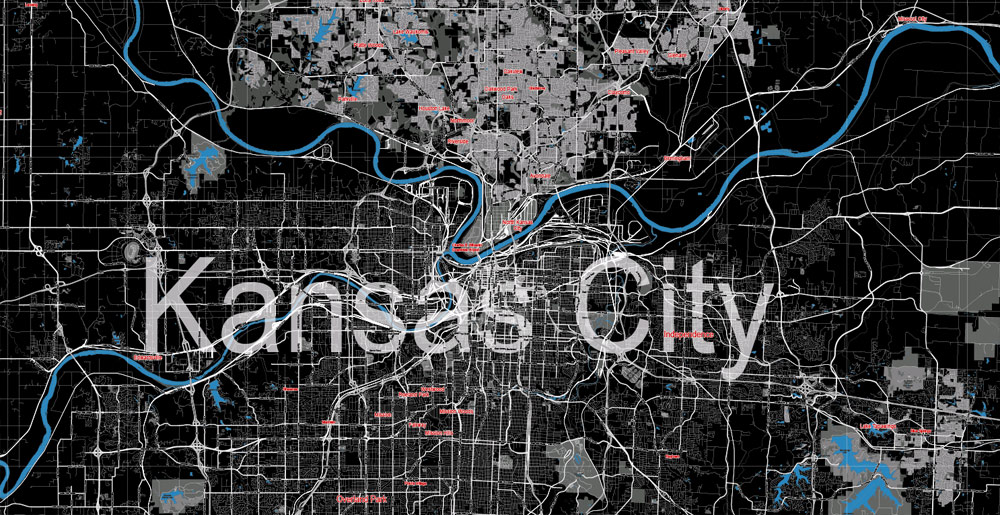 Interesting areas include the following:
Country Club Plaza is often abbreviated as "the Plaza". The 1920s shopping district is attractive in itself.
Crossroads Arts District is located near Baltimore and 20th St. Corresponds to its name.
Crown Plaza South of the city center. In the 1970s quarter, several large hotels and Hallmark took root (yes, the greeting card company is located right here).
Historic Jazz District The up-and-coming old African-American neighborhood is located at the intersection of 18th and Vine St.
River Market Historic District, still home to a large agricultural produce market; immediately north of the city center.
Westport is located on Westport Rd a little west of Main St, filled with attractive restaurants and bars, both privately owned.
Tourist information
Greater Kansas Tourist Center (Greater Kansas City Visitor Center) (Tel.: 800-767-7700; www.visitkc.com ; 22nd fl, 1100 Main St, City Center Sq; 8.30-17.00 Mon-Fri) There is always a bureau employee at the junction railway station. Missouri Welcome Centre (Tel.: 816-889-3330; www.visitmo.com ; I-70 departure 9; 8.00-17.00). State maps and information.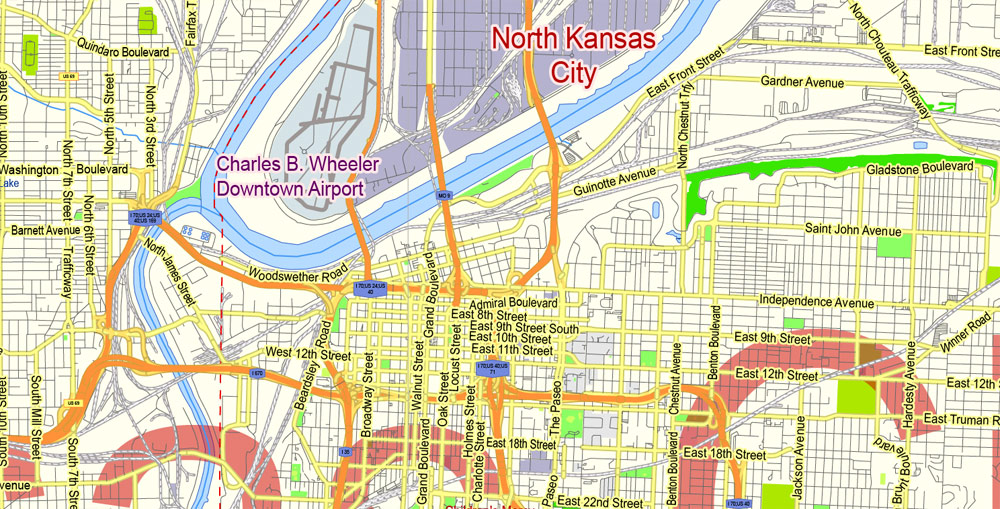 Transport
Kansas City International Airport KS International Airport (www.flykci.com ) – an intricate scheme of circular terminals 26 km northwest of the city center. A taxi to the downtown Plaza costs about $40/45. Or a cheaper option, Super Shuttle minibusses (Tel.: 800-258-3826; downtown/Plaza $17/18). Amtrak (www.amtrak.com ) At the junction train station; there are two daily Missouri River Runner trains to St. Louis (from $26, 5.5 hours). The Southwest Chief train stops here on its daily routes between Chicago and Los Angeles.
Greyhound (www.greyhound.com; 1101 Troost St) Sends daily buses to St. Louis ($30.4.5 hours) and Denver ($90, 11 hours) from a station unsuccessfully located east of the city center.
Jefferson Lines (www.jeffersonlines.com ) Buses run to Omaha ($40, three to four hours), Minneapolis ($80, eight to ten hours) via Des Moines and Oklahoma City ($65, seven hours) via Tulsa.
Megabus (www.megabus.com; 3rd St & Grand Blvd, Downtown) They make routes to St. Louis and Chicago for a minimum cost of $15.
Metro (www.kcata.org ; adult/child $1.50/75c) One-day unlimited bus pass costs $3. Bus No. 57 makes regular routes between the city center, Westport and Country Club Plaza.
Yellow Cab (Tel.: 888-471-6050) Taxi.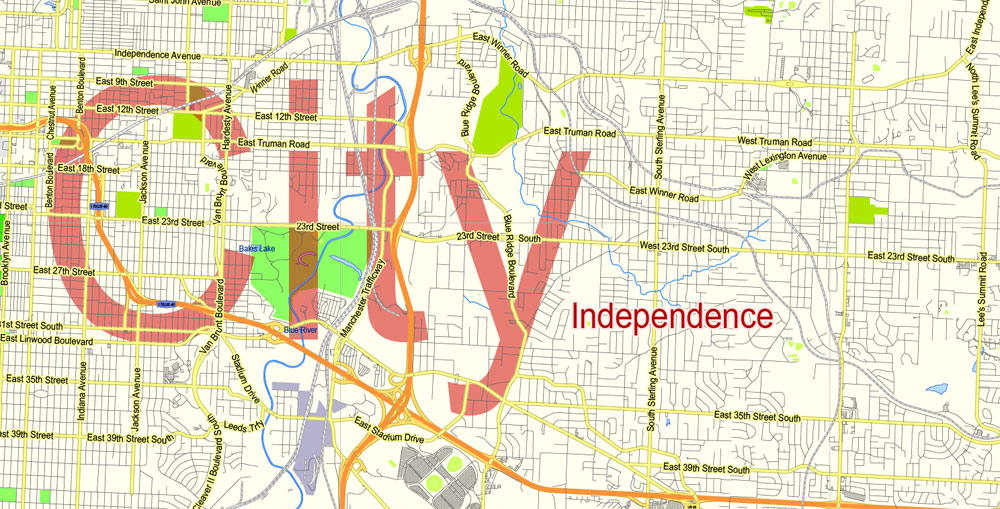 ---
Gallery of Images "Urban plan Kansas City Missouri":