Free simple vector map Kiev Adobe Illustrator, download now maps vector clipart >>>>>
Map for design, projects, presentation free to use as you need.
Please, Share it!

This work is licensed under a Creative Commons Attribution 4.0 International License.
Introducing Hot Air Balloon View
It has been my practice to call Google Business Photos 'indoor Street View'. Please see this map as a reference Kiev, Ukraine, printable vector street City Plan map, full editable, Adobe PDF. Google Business Photos never really seemed as accurate as 'indoor Street View' to me – but boy was I wrong.
I was wrong because Google Business Photos do not actually have to be taken indoors. In fact, as these Street View shots from the Turin Eye prove, they can actually be taken from 150 metres above the ground. Thanks to the owners of the Turin Eye you can now virtually ascend to the skies above Turin on Google Maps, walk around inside the hot air balloon and get a 360 degree panoramic aerial view of Turin.
Now that's what I call a business photo!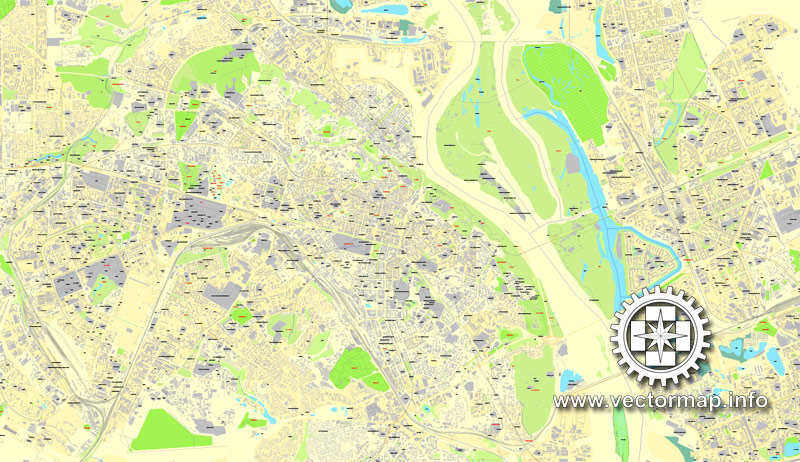 Free vector map World, Adobe Illustrator, download now maps vector clipart
Map for design, projects, presentation free to use as you like.
All free World Maps are here >>>>> 
Kiev
Capital of Ukraine
Kiev is the capital city of Ukraine, bisected by the Dnieper River and known for its religious architecture, secular monuments and history museums. The 11th-century Kiev Pechersk Lavra is a monastery and pilgrimage site encompassing several gold-domed churches. It's known for its catacombs lined with the burial chambers of Orthodox monks, and a collection of gold objects from ancient Scythian times.
Area: 839 km²
Population: 2.804 million
Free download vector map Ukraine 
Free download vector map Ukraine + Russia
See also:


Ukraine gained independence after the collapse of the Soviet Union in 1991 and has since veered between seeking closer integration with Western Europe and being drawn into the orbit of Russia, which sees its interests as threatened by a Western-leaning Ukraine.
Europe's second largest country, Ukraine is a land of wide, fertile agricultural plains, with large pockets of heavy industry in the east.
While Ukraine and Russia share common historical origins, the west of the country has closer ties with its European neighbours, particularly Poland, and nationalist sentiment is strongest there.
A significant minority of the population uses Russian as its first language, particularly in the industrialised east. In Crimea, an autonomous republic on the Black Sea that was part of Russia until 1954, ethnic Russians make up about 60% of the population.
Russia once again seized and annexed Crimea in March 2014, amid the chaos following the fall of President Viktor Yanukovych, plunging European into its worst diplomatic crisis since the Cold War.
http://www.bbc.com/news/world-europe-18018002
Векторная карта Оренбург Россия, подробная редактируемая, в слоях, для дизайна и полиграфии в формате Adobe Illustrator, масштаб 100 метров 1:2907  объем 21 мегабайт.
Все улицы с наименованиями, основные объекты, здания.
Карта предназначена для редактирования и печати в любом формате, полностью масштабируемая без потерь качества.
Для полиграфической рекламы, дизайна, туристических компаний, логистического бизнеса, архитектуры, строительства, проектирования.
Слои: color_fills, streets_roads, labels_roads, names_objects, names_streets, names_places, water, buildings, grids, legend, etc.
Самая точная и подробная карта города.