Free vector map Thailand, Adobe Illustrator, download now maps vector clipart >>>>>
Map for design, projects, presentation free to use as you need.
Please, Share it!
See Also: Full Detailed Map Thailand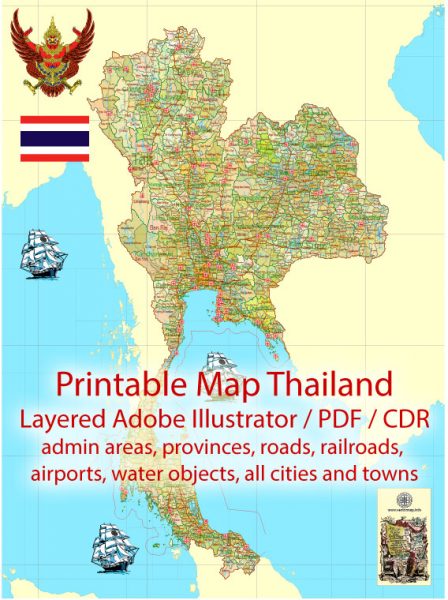 The Indoor Street View Booking System
I really don't have much desire to review the inside of most businesses and stores on Street View before I visit. However when I'm eating in a restaurant I do actually like to sit in a nice environment. And if you are drawing a map of Delhi Printable Map, India, exact vector street G-View Level 17 (100 meters scale) map, V.14.12. fully editable, Adobe Illustrator this link can be useful. I can therefore see the benefit of scoping out what a restaurant looks like on Street View before visiting.
Similarly if you own a great looking restaurant Google Business Photos is a great way to showcase your restaurant to potential customers. The restaurant GOSP in Denmark has taken this concept a stage further and actually use indoor Street View as a table booking system. Not only can potential customers take a tour around the restaurant in Google Maps Street View, but if they like the look of a particular table they can click on an overlaid marker and book that table for lunch or dinner.
The Google Business Photos Booking System was developed by Big-e, an e-business online development team. I can see a huge potential for such a booking system not only for restaurants but for booking stadium and theater seats.
Indoor Street View is now available in a large number of theaters and stadiums around the world. If you are about to book a ticket for a concert or sporting event in a huge stadium wouldn't it be great to be able to tour the stadium first in Street View and check out the possible view from individual seats before booking your ticket? Source.
Thailand is the only country in south-east Asia to have escaped colonial rule. Buddhist religion, the monarchy and the military have helped to shape its society and politics.
The military has ruled for most of the period since 1947, with a few interludes in which the country had a democratically elected government.
Since 2001, Thai politics have been dominated by the irreconcilable split between supporters and detractors of Thaksin Shinawatra, who served as prime minister until he was ousted by the military in 2006.
Thaksin's sister Yingluck became prime minister following the 2011 election but was in her turn ousted by a military coup in 2014.
http://www.bbc.com/news/world-asia-15581957