Free vector map Senegal + Gambia, Adobe Illustrator, download now maps vector clipart >>>>>
Map for design, projects, presentation free to use as you need.
Please, Share it!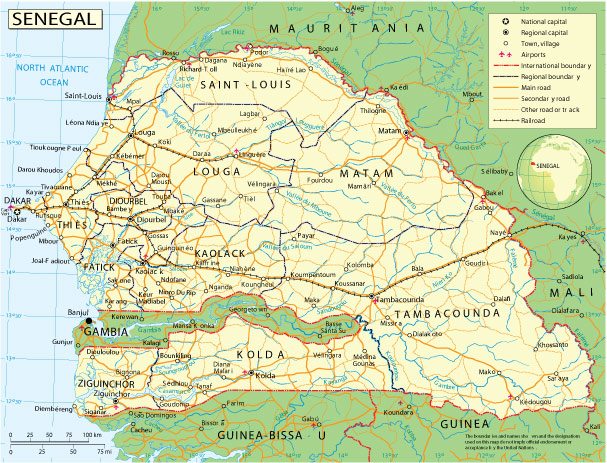 Senegal
Country in West Africa.
Senegal is a country on the west coast of Africa, which is famous for its French colonial period architecture and natural attractions. In the capital of the country, Dakar, it is worth visiting the ancient district of Medina (Old City) and the authoritative Museum of African Art. Theodora Mono. Dakar is also known for its bars and nightclubs that play local Mbalax music. In Saint-Louis, the former capital of French West Africa, tourists are attracted by the buildings of the old quarters, erected during the colonial era.
Capital: Dakar
Population: 16.74 million
Gambia
Country in West Africa.
The Gambia is a small country in West Africa that borders Senegal and has a short coastline. The valley of the Gambia River, which flows in the central part of the country and flows into the Atlantic Ocean, is famous for the diversity of its ecosystems. Kiang West National Park and Bao Bolong Wetland Sanctuary is home to monkeys, leopards, hippos, hyenas and rare birds. Beaches are open to visitors in the capital Banjul and the nearby town of Serekunda.
Capital: Banjul
Population: 2.417 million
Senegal country profile
Long considered one of Africa's model democracies, the western African nation of Senegal has a tradition of stable governments and civilian rule.
Hundreds of Senegalese were killed in a local separatist conflict in the southern region of Casamance. But violence has waned since a 2014 ceasefire.
The country's stability has allowed it to send peacekeeping troops to DR Congo, Liberia and Kosovo.
Slaves, ivory and gold were exported from the coast during the 17th and 18th centuries and now the economy is based mainly on agriculture. The money sent home by Senegalese living abroad is a key source of revenue.
The Gambia country profile
The Gambia is one of Africa's smallest countries and, unlike many of its west Africa neighbours, it has enjoyed long spells of stability since independence.
President Yahya Jammeh seized power in a bloodless coup in 1994 and has ruled with an iron fist ever since.
Stability has not translated into prosperity. Despite the presence of the Gambia River, which runs through the middle of the country, only one-sixth of the land is arable and poor soil quality has led to the predominance of one crop – peanuts.
Tourism is an important source of foreign exchange, as is the money sent home by Gambians living abroad. Most visitors are drawn to the resorts that occupy a stretch of the Atlantic coast.