Free vector map Madagascar, Adobe Illustrator, download now maps vector clipart >>>>>
Map for design, projects, presentation free to use as you like.
Please, Share it!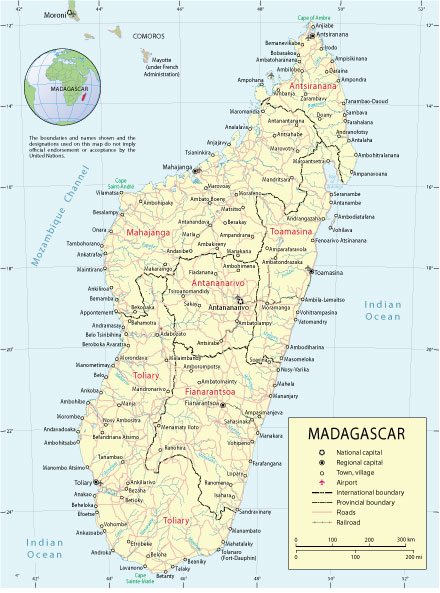 Madagascar
Country, East Africa
Madagascar is an island nation off the southeast coast of Africa that is famous for its tropical forests, beaches and reefs. The island is home to thousands of endemic animal species such as lemurs. Near the populous capital of the country, Antananarivo, there is Ambohimanga Hill, on the slopes of which palaces and burial places of local rulers have been preserved, and the Baobab Alley – a dirt road, on both sides of which centuries-old trees of colossal size grow.
Capital: Antananarivo
Area: 587,041 km²
Population: 27.69 million
Situated off the southeast coast of Africa, Madagascar is the fourth largest island in the world. Having developed in isolation, the island nation is famed for its unique wildlife.
Traditionally, the Malagasy economy has been based on the cultivation of paddy rice, coffee, vanilla and cloves. But despite a wealth of natural resources and a tourism industry driven by its unique environment, the country remains one of the world's poorest and heavily dependent on foreign aid.
Since gaining independence from France in 1960, Madagascar has experienced repeated political instability, including coups, violent unrest and disputed elections.
The most recent coup in 2009 led to five years of political deadlock, international condemnation and economic sanctions. Despite the return of democratic elections in 2013, the political situation remains fragile.