Free vector map Gabon, Adobe Illustrator, download now maps vector clipart >>>>>
Map for design, projects, presentation free to use as you like.
Please, Share it!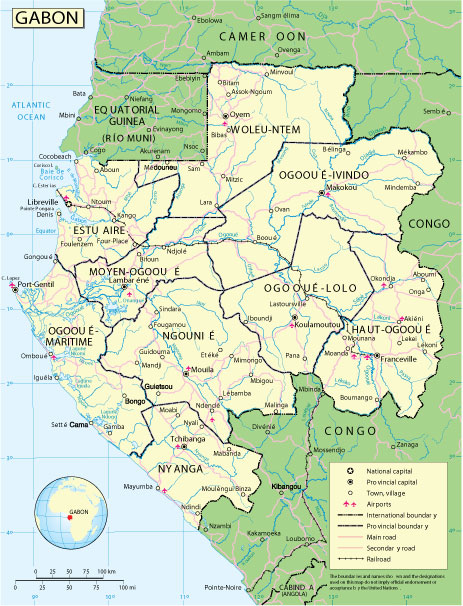 Gabon
Country, Central Africa
Gabon is a country in Central Africa on the Atlantic coast. A significant part of its territory is occupied by protected parks. The coastal forests and lagoons of the famous Loango National Park are home to a variety of wildlife, including gorillas, hippos and whales. Lope National Park is famous for its rainforests, while Akanda National Park is famous for its mangroves and tidal sea beaches.
Capital: Libreville
Population: 2.226 million
Gabon, located on the west coast of Africa, is one of the region's more stable countries.
Since independence from France in 1960, Gabon has had just three presidents. Late President Omar Bongo ruled for more than four decades until his death in 2009.
During Omar Bongo's rule, Gabon maintained a close relationship with France under a system known as "Francafrique", receiving both political and military support in exchange for business favours.
But relations have cooled since his son Ali won a contested election in 2009 and French authorities launched a long-running corruption investigation into the family's assets.
Gabon is a major oil producer but a third of its population live in poverty, according to the World Bank.