Free download vector map Poland, Adobe Illustrator, download now >>>>>
Map for design, projects, presentation free to use as you like.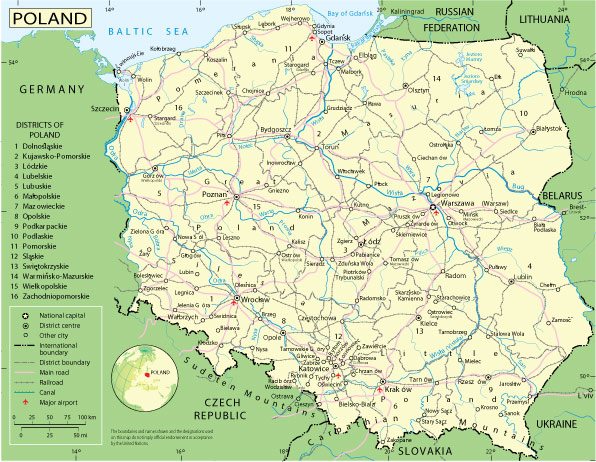 Poland
Country in Europe See also: Full version maps of Poland
Poland is a country in Eastern Europe on the Baltic Sea, famous for its medieval architecture and Jewish quarters. The city of Krakow is famous for the 14th-century Royal Castle on the Wawel Hill, which offers a magnificent view of the medieval old town, where the Cloth Hall, a Renaissance trading building on the Main Market Square, is located. Not far from the city is the Auschwitz-Birkenau Museum, opened on the site of the Nazi concentration camp Auschwitz, and the salt mine in Wieliczka, which is a chain of corridors and chambers.
Capital: Warsaw
Area: 322,575 km²
Population: 37.95 million
Free vector map World Mercator Projection, Adobe Illustrator, download now maps vector clipart
Map for design, projects, presentation free to use as you like.
Warsaw
Capital of Poland
Warsaw is the sprawling capital of Poland. Its widely varied architecture reflects the city's long, turbulent history, from Gothic churches and neoclassical palaces to Soviet-era blocks and modern skyscrapers. As Poland's cultural hub, Warsaw has a thriving nightlife and music scene, both classical and underground. After near-total destruction in WWII, Warsaw's old town was faithfully restored to its pre-war appearance.
Area: 517 km²
Poland country profile
A nation with a proud cultural heritage, Poland can trace its roots back over 1,000 years. Positioned at the centre of Europe, it has known turbulent and violent times.
There have been periods of independence as well as periods of domination by other countries. Several million people, half of them Jews, died in World War II.
A new era began when Poland became an EU member in May 2004, five years after joining Nato and 15 years after the end of communist rule.
It was the birthplace of the former Soviet bloc's first officially recognised independent mass political movement when strikes at the Gdansk shipyard in August 1980 led to agreement with the authorities on the establishment of the Solidarity trade union.
Republic of Poland
Capital: Warsaw
Population

38.3 million

Area

312,685 sq km (120,728 sq miles)

Major language

Polish

Major religion

Christianity

Life expectancy

72 years (men), 81 years (women)

Currency

zloty
http://www.bbc.com/news/world-europe-17753718