Salisbury is a medieval cathedral city in the southern English county of Wiltshire. It's 9 miles south of the iconic prehistoric stone circle at Stonehenge, which stands on the grassland of Salisbury Plain. The city's ornate 13th-century cathedral has a 123m spire, a working 14th-century clock and an original copy of the Magna Carta (the Great Charter), a key document from 1215 A.D.
© This map has a Creative Commons Attribution 4.0 International License.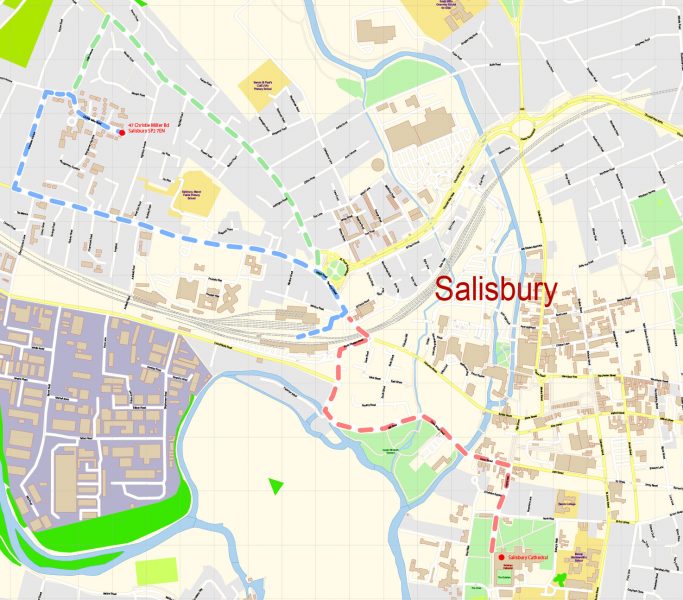 © This map has a Creative Commons Attribution 4.0 International License. 
Free download Adobe Illustrator map  crime_salisbury_eng_editable_map_gvl17_b_ai_10_ai.ai
Free download Adobe PDF map crime_salisbury_eng_editable_map_gvl17_b_ai_10_pdf.pdf
Free download SVG vector map  crime_salisbury_eng_editable_map_gvl17_b_ai_10_svg.svg
See Also: Salisbury UK Map Vector Printable exact Extra Detailed City Plan editable Layered Adobe Illustrator Street Map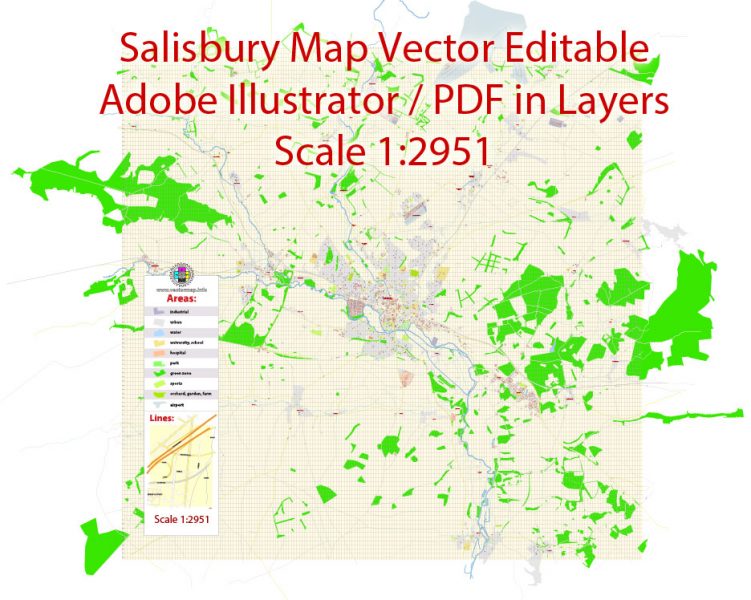 On 4 March 2018, Sergei Skripal, a former Russian military officer and double agent for the UK's intelligence services, and his daughter Yulia Skripal were poisoned in Salisbury, England, with a Novichok nerve agent, according to official UK sources and the Organisation for the Prohibition of Chemical Weapons (OPCW). After three weeks in a critical condition, Yulia regained consciousness and was able to speak. She was discharged on 9 April 2018. Sergei was also in a critical condition until he regained consciousness one month after the attack. He was discharged from hospital on 18 May 2018.
A police officer was also taken into intensive care after being contaminated when he went to Sergei Skripal's house. By 22 March he had recovered enough to leave the hospital. An additional 48 people sought medical advice after the attack, but none required treatment.
In the 1990s, Sergei Skripal was an officer for Russia's Main Intelligence Directorate (GRU) and worked as a double agent for the UK's Secret Intelligence Service from 1995 until his arrest in Moscow in December 2004. In August 2006, he was convicted of high treason and sentenced to 13 years in a penal colony by a Russian court. He settled in the UK in 2010 following the Illegals Program spy swap.[13] Sergei holds dual Russian and British citizenship; Yulia is a Russian citizen, and was visiting her father from Moscow.
Later in March, the British government accused Russia of attempted murder and announced a series of punitive measures against Russia, including the expulsion of diplomats. The UK's official assessment of the incident was supported by 28 other countries which responded similarly. Altogether, an unprecedented 153 Russian diplomats were expelled. Russia denied the accusations and responded similarly to the expulsions and "accused Britain of the poisoning."
On 30 June 2018 a similar poisoning of two British nationals in Amesbury, seven miles from Salisbury, involved the same nerve agent. A man found the nerve agent in a perfume bottle and gave it to a woman who sprayed it on her wrist. The woman, Dawn Sturgess, fell ill within 15 minutes and died on 8 July, but the man who also came into contact with the poison survived. British police believe this incident was not a targeted attack, but a result of the way the nerve agent was disposed of after the poisoning in Salisbury.
On 5 September 2018, British authorities identified two Russian nationals, using the names Alexander Petrov and Ruslan Boshirov, as suspected of the Skripals' poisoning, and alleged that they were active officers in Russian military intelligence. On 13 September the two men were interviewed on Russian television where they claimed they were tourists visiting the city.
https://en.wikipedia.org/wiki/Poisoning_of_Sergei_and_Yulia_Skripal
—–
Russians accused over Salisbury poisoning were in city 'as tourists https://edition.cnn.com/2018/09/13/europe/russia-uk-skripal-poisoning-suspects-intl/index.html
Moscow (CNN)Two Russians accused of a nerve agent attack in the UK have admitted they visited the city where the assault took place, but say the purpose of their brief trip was to visit its historic cathedral and not to poison a former double agent who happened to live there.
The men, who identified themselves as Alexander Petrov and Ruslan Boshirov, told the Kremlin-backed RT network that the purpose of their 6,000-mile, three-day trip from Moscow was to visit the "wonderful town," its fine cathedral with its 123-meter spire and famous clock, the "first of its kind anywhere in the world."
Far from being on a mission to kill Sergei Skripal, a former KGB agent who had ended up working for British intelligence, their intention was to visit historic sites such as the ancient stone circle at Stonehenge and the prehistoric settlement site of Old Sarum. Friends had been exhorting them for some time to make the trip, they said.
A CCTV screengrab shows Alexander Petrov and Ruslan Boshirov in Salisbury, according to London's Metropolitan Police.
The peculiar interview with RT editor-in-chief Margarita Simonyan, in which the men appeared nervous and uncomfortable, came a day after Russian President Vladimir Putin suggested the men should come forward and tell their story.
British authorities say Petrov and Boshirov are aliases, and them men are agents of the Russian security service, the GRU. But in the RT interview, the men insisted those were their real names, and that they were businessmen in the fitness industry, selling supplements and advising on nutrition.
They claimed to have had nothing to do with the attack on Skripal and his daughter Yulia, who were found slumped on a bench in the center of Salisbury on March 4 as the Russians were on a train back to London after their second visit to the city in two days. They might have been spotted on the same street as the Skripals' house, they said, but they had no idea the former spy lived there.
Their extraordinary account appears to indicate that Russia does not plan to deny the time-stamped CCTV footage produced by Britain that shows the pair at various locations between March 2-4, but to suggest it was misinterpreted and that there is an innocent explanation.
The UK government dismissed the pair's claims. "The lies and blatant fabrications in this interview given to a Russian state-sponsored TV station are an insult to the public's intelligence. More importantly they are deeply offensive to the victims and loved ones of this horrific attack," Prime Minister Theresa May's spokesman told reporters.
"Sadly, it is what we have come to expect. The police have set out very clearly the evidence against these two men. They are wanted men and we have taken all steps to ensure they are apprehended and brought to justice in the UK if they ever again step foot outside Russia."
British Foreign Secretary Jeremy Hunt ridiculed the Russians' claims, saying on Twitter: "The last time Russian military claimed to be on holiday was when they invaded Ukraine in 2014. Time to stop the fake TV shows — the world has found Russia out on this."
Britain is not appealing to Russia for the extradition of the two men as Russian does not extradite its own nationals. However, prosecutors have obtained a European Arrest Warrant and police have asked Interpol to issue arrest warrants too.
British prosecutors said last week they had "sufficient evidence" to charge the two Russian nationals with attempted murder and conspiracy to murder in connection with the attack on March 4. Prosecutors say the Skripals came into contact with Novichok, a military-grade nerve agent.
Russia has repeatedly denied any involvement in the Salisbury attack.
© This map has a Creative Commons Attribution 4.0 International License.