Free vector map South Africa + Lesotho + Swaziland, Adobe Illustrator, download now maps vector clipart >>>>>
Map for design, projects, presentation free to use as you need.
Please, Share it!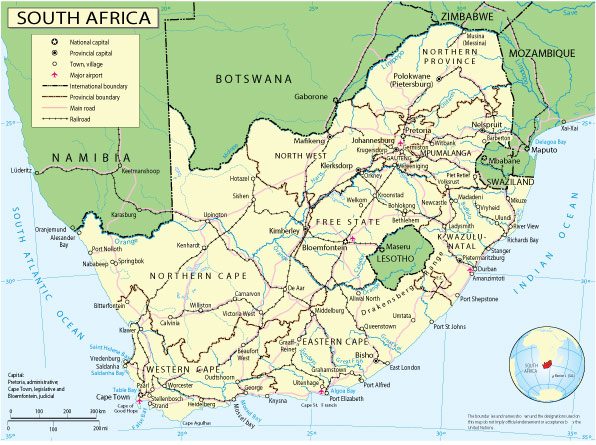 South Africa
Country, Southern Africa See also: Full version maps of South Africa
The Republic of South Africa (SAR) is the southernmost country on the African continent with diverse ecosystems. During a safari in the Kruger National Park in the interior of the country, you can admire large animals such as elephants, hippos, giraffes and lions. The Western Cape is famous for its beaches, the lush vineyards surrounding the towns of Stellenbosch and Paarl, the rocky cliffs at the Cape of Good Hope, the forests and lagoons along the Garden Route, and the city of Cape Town dominated by flat-topped Table Mountain.
Capitals: Cape Town, Pretoria, Bloemfontein
Population: 59.31 million
South Africa has one of the continent's biggest and most developed economies.
Up until 1994 it was ruled by a white minority which enforced a separation of races with its policy called apartheid.
The apartheid government eventually negotiated itself out of power after decades of international isolation, armed opposition and mass protests.
The democratically-elected leadership encouraged reconciliation and set about redressing social imbalances.
The Kingdom of Lesotho is made up mostly of highlands where many of the villages can be reached only on horseback, by foot or light aircraft.
Resources are scarce – a consequence of the harsh environment of the highland plateau and limited agricultural space in the lowlands.
The former British protectorate has been heavily dependent on the country which completely surrounds it – South Africa.
Over the decades thousands of workers have been forced by the lack of job opportunities to find work at South African mines.
And the Lesotho Highlands Water Project was completed in the 1990s to export water to South Africa.
The kingdom of Swaziland is one of the world's last remaining absolute monarchies.
The king rules by decree over his million subjects, most of whom live in the countryside and follow traditional ways of life.
The struggling economy benefited from preferential access which textile exporters had to the United States until this facility was withdrawn over human rights concerns in 2015.
The country exports sugar and many Swazis work in South Africa and send their earnings home.
According to UNICEF Swaziland has the highest HIV prevalence rate in the world. The HIV-Aids virus has killed countless Swazis who have left behind thousands of orphans. Some 210,000 people, our of a population of 1.2 million, are estimated to be living with HIV.