Free vector map Slovenia, Adobe Illustrator, download now maps vector clipart >>>>>
Map for design, projects, presentation free to use as you need.
Please, Share it!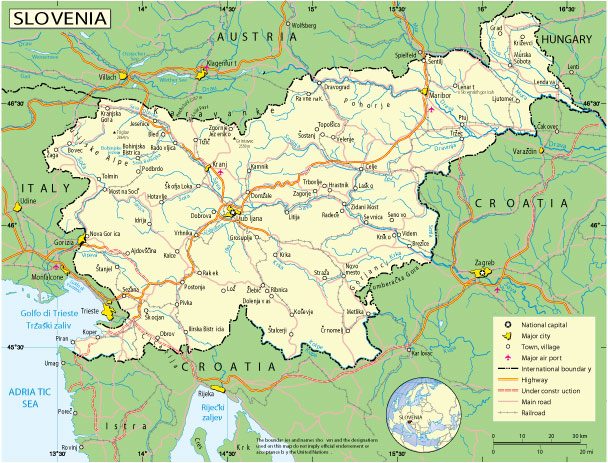 Slovenia
Country, Balkan Peninsula See also: Full version maps of Slovenia
Slovenia is a country in Central Europe with beautiful mountains, ski resorts and lakes. On the shores of the glacial Lake Bled, fed by thermal springs, the resort town of Bled is located. Its main attractions are an island with a church and a medieval castle, standing on a sheer cliff. In Ljubljana, Slovenia's capital, baroque façades blend with the modern architecture of Jože Plečnik, whose famous Triple Bridge spans the winding Ljubljanica River.
Capital: Ljubljana
Population: 2.1 million
Slovenia is a small country in Central Europe, but contains within its borders Alpine mountains, thick forests, historic cities and a short Adriatic coastline.
Slovenia was the first former Yugoslav republic to join the European Union, in May 2004 – shortly after joining Nato.
Unlike Croatia or Bosnia-Herzegovina, Slovenia's independence from Yugoslavia was almost bloodless. The country also found the transition from a state economy to the free market easier than most.
Long regarded as one of the best-performing new EU members, Slovenia was dragged into a deep recession by the European financial crisis in 2012.
Slovenia's relations with Croatia have been strained on account of a rumbling dispute over sea and land borders dating back to the break-up of Yugoslavia.
FACTS
Republic of Slovenia
Capital: Ljubljana
Population

2 million

Area

20,273 sq km (7,827 sq miles)

Major language

Slovene

Major religion

Christianity

Life expectancy

76 years (men), 83 years (women)

Currency

euro