Free vector map Oman, Adobe Illustrator, download now maps vector clipart >>>>>
Map for design, projects, presentation free to use as you like.
Please, Share it!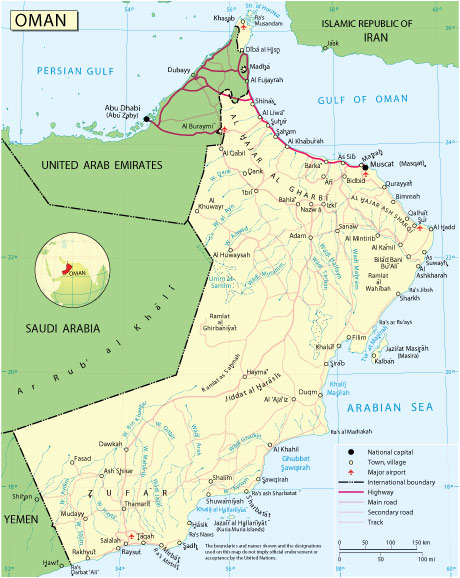 Oman
Country, Middle East
Oman is a state on the Arabian Peninsula, which has a desert, oases in the beds of dried-up rivers and long strips of beaches on the coast of the Arabian Sea, as well as the Persian and Oman Gulfs. In the sandy desert of Ramlat el Wahiba, Bedouins live among the dunes. The capital of Oman is located in the port city of Muscat. It is home to the modern Sultan Qaboos Grand Mosque and the old Matrah quarter with its labyrinthine bazaar and lively fish market.
Capital: Muscat
Population: 5.107 million
The oldest independent state in the Arab world, Oman is one of the more traditional countries in the Gulf region and was, until the 1970s, one of the most isolated.
It is strategically placed at the mouth of the Gulf at south-east corner of the Arabian Peninsula and, in the 19th century, vied with Portugal and Britain for influence in the Gulf and Indian Ocean.
The country has so far been spared the militant Islamist violence that has plagued some of its neighbours.
Oman has not been immune from the groundswell of political dissent in the region, however. Protests in 2011 demanding reforms were dispersed by riot police, and the government began a crackdown on internet criticism the following year.