Free vector map Nicaragua, Adobe Illustrator, download now maps vector clipart >>>>>
Map for design, projects, presentation free to use as you like.
Please, Share it!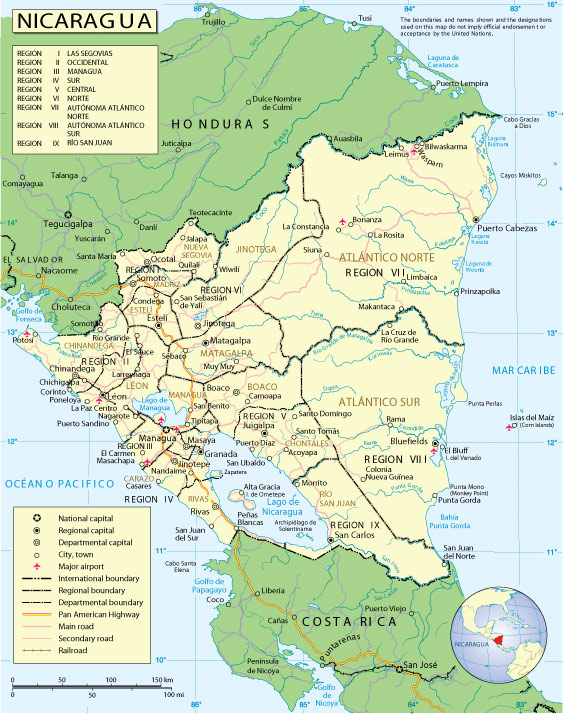 Nicaragua
Country in Central America.
Nicaragua is a country in Central America, lying between the Pacific Ocean and the Caribbean Sea. Its landscape is formed by lakes, volcanoes and beaches. To the north of the country's capital Managua are the vast Lake Managua and the famous stratovolcano Momotombo. To the south are the city of Granada, famous for its Spanish colonial architecture, and several islets that are home to a variety of tropical birds.
Capital: Managua
Population: 6.625 million
Nicaragua is striving to overcome the after-effects of dictatorship, civil war and natural calamities, which have left it one of the poorest countries in the Western Hemisphere.
It is now also struggling with the conflict associated with being on the drug trafficking route to the United States.
Nicaragua has traditionally relied on agricultural exports to sustain its economy but the country's meagre national wealth benefited mainly a few elite families of Spanish descent, in particular the Somoza family in the mid-20th century. This dynasty ruled the country with US backing between 1937 and the Sandinista revolution in 1979.
The Sandinistas began redistributing property and made huge progress in the spheres of health and education, but an alarmed US launched a sustained campaign of embargoes and armed subversion.
It is now hoping to launch one of the world's most ambitious infrastructure schemes – a canal project to rival the Panama Canal.