Free vector map Myanmar-Burma, Adobe Illustrator, download now maps vector clipart >>>>>
Map for design, projects, presentation free to use as you like.
Please, Share it!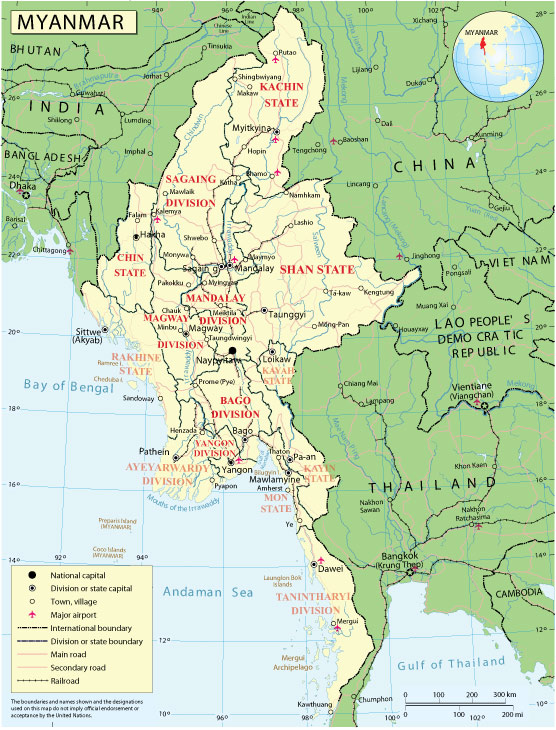 Myanmar (Burma)
Country in Asia
Myanmar (formerly Burma) is a multinational state in Southeast Asia, bordering India, Bangladesh, China, Laos and Thailand. The largest city in the country, Yangon (formerly Rangoon) is famous for its bustling markets, numerous parks and lakes, as well as the gilded Shuedagown Pagoda dating back to the 6th century, which houses Buddhist relics.
Capital: Naypyidaw
Population: 54.41 million
Myanmar, also known as Burma, was long considered a pariah state while under the rule of an oppressive military junta from 1962 to 2011.
The generals who ran the country suppressed almost all dissent – symbolised by the house arrest of opposition leader Aung San Suu Kyi – and stood accused of gross human rights abuses, prompting international condemnation and sanctions.
A gradual liberalisation process has been under way since 2010. The country is expected to see a major shift after the government changed hands early in 2016.
The dominance of the largest ethnic group, the Burman or Bamar people, over the country's many minorities has been fuelling a series of long-running rebellions, although a gradual peace process yielded a draft ceasefire deal in 2015.