Free vector map Morocco, Adobe Illustrator, download now maps vector clipart >>>>>
Map for design, projects, presentation free to use as you like.
Please, Share it!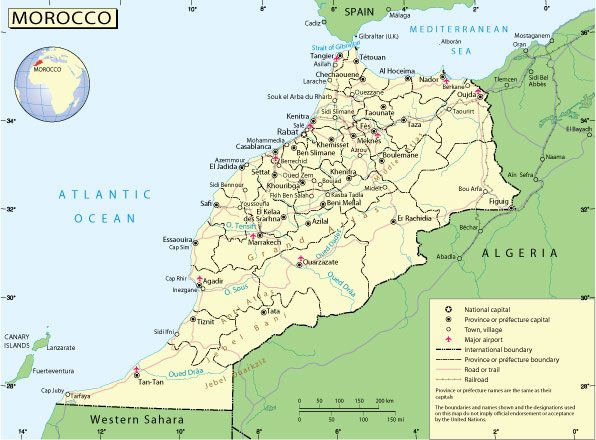 Morocco
Country, North Africa See also: Full version maps of Morocco
Morocco is a country in North Africa, washed by the waters of the Atlantic Ocean and the Mediterranean Sea. Its culture bears the imprint of Berber, Arab and European traditions. In the labyrinthine medieval medina (old town) of Marrakech, it is worth visiting Djemaa al-Fna Square, where street performers perform, and bazaars selling ceramics, jewelry and metal lanterns. In the country's capital, Rabat, tourists are attracted by the royal casbah (citadel) of Udaya of the 12th century, which offers a beautiful view of the ocean.
Capital: Rabat
Population: 36.91 million
The Kingdom of Morocco is the most westerly of the North African countries known as the Maghreb – the "Arab West". It has Atlantic and Mediterranean coastlines, a rugged mountain interior and a history of independence not shared by its neighbours.
Its rich culture is a blend of Arab, Berber, European and African influences.
Morocco was a French protectorate from 1912 to 1956, when Sultan Mohammed became king. He was succeeded in 1961 by his son, Hassan II, who ruled for 38 years and played a prominent role in the search for peace in the Middle East. He also ruthlessly suppressed domestic opposition.