Free vector map Laos, Adobe Illustrator, download now maps vector clipart >>>>>
Map for design, projects, presentation free to use as you like.
Please, Share it!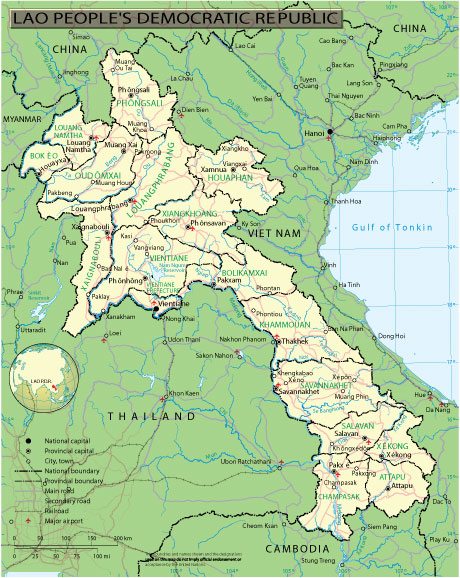 Laos
Country in Asia
Laos is a mountainous country in Southeast Asia, through which the Mekong River flows. The country is famous for its French colonial architecture, hilltop tribal settlements and Buddhist monasteries. In the capital of Laos, Vientiane, it is worth visiting the Buddhist sanctuary (stupa) That Luang, which houses the chest bone of the Buddha, the Patusai war memorial and the Talat Sao (Morning Market) market, which sells local products, clothing and handicrafts.
Capital: Vientiane
Population: 7.276 million
Landlocked Laos is one of the world's few remaining communist states and one of East Asia's poorest.
A French colony until the 1953, the power struggle which ensued between royalists and the communist group Pathet Lao also saw the country caught up in the Vietnam War. Communist forces overthrew the monarchy in 1975, heralding years of isolation.
After the fall of the Soviet Union in the 1990s, Laos began opening up to the world. But despite economic reforms, the country remains poor and heavily dependent on foreign aid.
Most Laotians live in rural areas, with around 80% working in agriculture mostly growing rice. The state has made no secret of its huge hydropower ambitions and its desire to become the "battery" of Southeast Asia.
The government anticipates that by 2025 hydropower will become the country's biggest source of revenue. But neighbours Vietnam, Thailand and Cambodia have raised concerns about the environmental impact of its dam building projects along the Mekong River