Free vector map Kyrgyzstan, Adobe Illustrator, download now maps vector clipart >>>>>
Map for design, projects, presentation free to use as you like.
Please, Share it!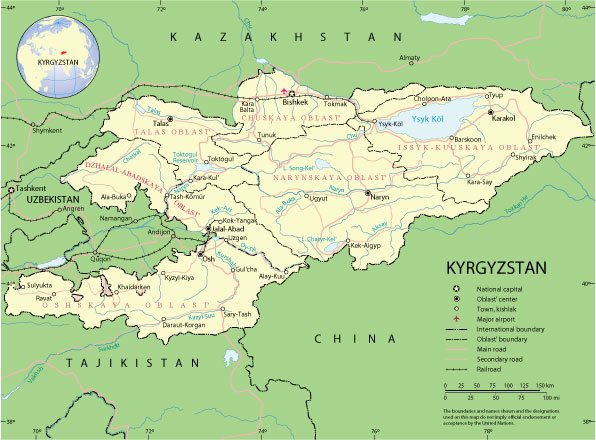 Kyrgyzstan
Country, Central Asia See also: Full version maps of Kyrgyzstan
Kyrgyzstan is a mountainous country in Central Asia. It is located along the Silk Road, an ancient trade route between China and the Mediterranean. The Tien Shan mountains, which surround this caravan route and occupy most of the country, are inhabited by snow leopards, lynxes and sheep. In the south of the country is the city of Osh, whose history goes back more than a thousand years. It is famous for its huge bazaar, where merchants who followed the Great Silk Road once stopped.
Capital: Bishkek
Area: 199,900 km²
Population: 6.592 million
A Central Asian state bordering China, Kyrgyzstan became independent with the collapse of the Soviet Union in 1991.
It has some oil and gas and a developing gold mining sector, but relies on imports for most of its energy needs.
Resentment at widespread poverty and ethnic divisions between north and south have spilled over into violence, and the country's first two post-Soviet presidents were swept from power by popular discontent.
Settled by Kyrgyz tribes from southern Siberia in the 17th century, the area was ruled by various regional powers before coming under Russian, and then Soviet, rule.
Most of its six million people are Turkic-speaking Muslims.
In 2014 Kyrgyzstan shut a US military base which had supplied US troops in Afghanistan with personnel and cargo since 2001. Russia retains a military airbase in the country.