Free vector map Kuwait, Adobe Illustrator, download now maps vector clipart >>>>>
Map for design, projects, presentation free to use as you like.
Please, Share it!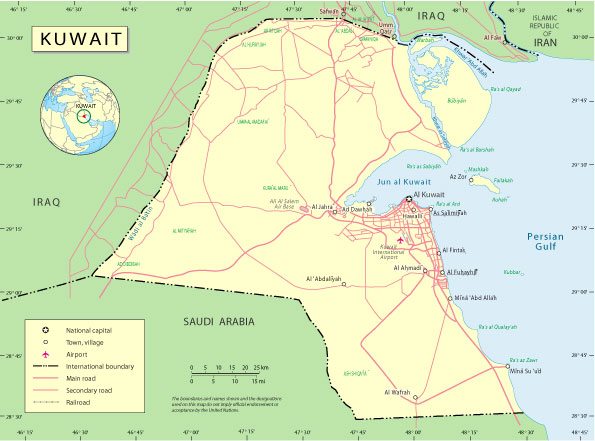 Kuwait
Country, Middle East See also: Full version maps of Kuwait
Kuwait, officially the State of Kuwait, is a state in southwestern Asia. It borders with Iraq in the north and west, with Saudi Arabia in the south. From the east it is washed by the Persian Gulf. The capital is Kuwait City. An important oil exporter, a member of OPEC.
Capital: Kuwait
Area: 17,818 km²
Population: 4.271 million
Oil-rich Kuwait is a tiny country nestling at the top of the Gulf. Flanked by powerful neighbours Saudi Arabia, Iraq and Iran, its strategic location and massive oil reserves make it one of the world's richest countries per capita.
A conservative state with a Sunni Muslim majority and a US ally, Kuwait stands out from the other Gulf monarchies for having the most open political system.
But tensions have persisted between parliament and the cabinet, controlled by the ruling Al-Sabah family, and the government is facing increasing calls for radical political reform from the opposition.