Free vector map Kenya, Adobe Illustrator, download now maps vector clipart >>>>>
Map for design, projects, presentation free to use as you like.
Please, Share it!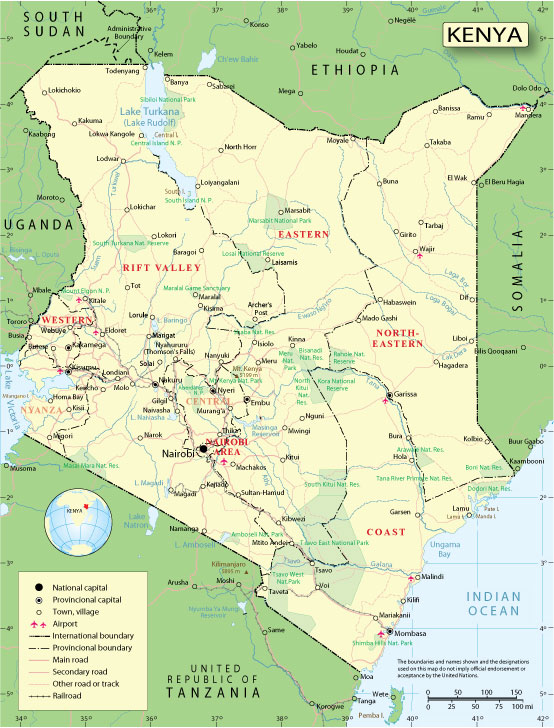 Kenya
Country, East Africa See also: Full version maps of Kenya
Kenya is a country on the east coast of Africa bordering the Indian Ocean. On its territory there are savannahs, lakes, a huge Great Rift Valley and mountain ranges. Kenya is home to a variety of wildlife, including lions, elephants and rhinos. In the capital, Nairobi, tourists are offered to go on a safari to the Masai Mara reserve, where more than a million wildebeests migrate annually, and Amboseli National Park, which offers a magnificent view of the 5895-meter-high Kilimanjaro volcano, located in Tanzania.
Capital: Nairobi
Population: 53.77 million
Situated on the equator on Africa's east coast, Kenya has been described as "the cradle of humanity".
In the Great Rift Valley palaeontologists have discovered some of the earliest evidence of man's ancestors.
In the present day, Kenya's ethnic diversity has produced a vibrant culture but is also a source of conflict.
The Islamist militant Al-Shabab movement, active in Somalia, has also been launching a growing number of attacks in Kenya, including the 2013 Westgate shopping mall in Nairobi and the 2015 attack on Garissa University College in northwest Kenya.
Other pressing challenges include high unemployment, crime and poverty. Droughts frequently put millions of people at risk.