Urban plan Pforzheim Germany pdf
---
Related Images "Urban plan Pforzheim Germany pdf":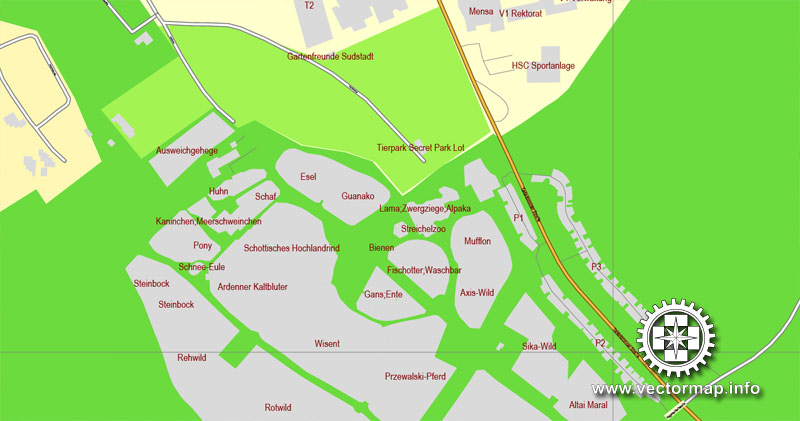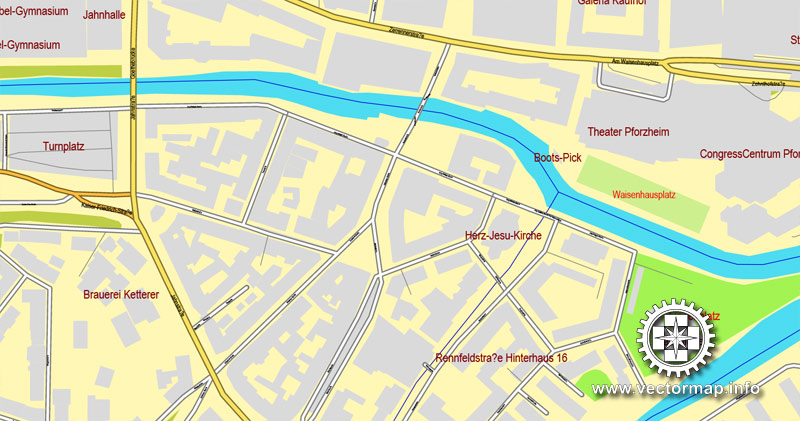 Pforzheim, Germany, printable vector street map, Exact editable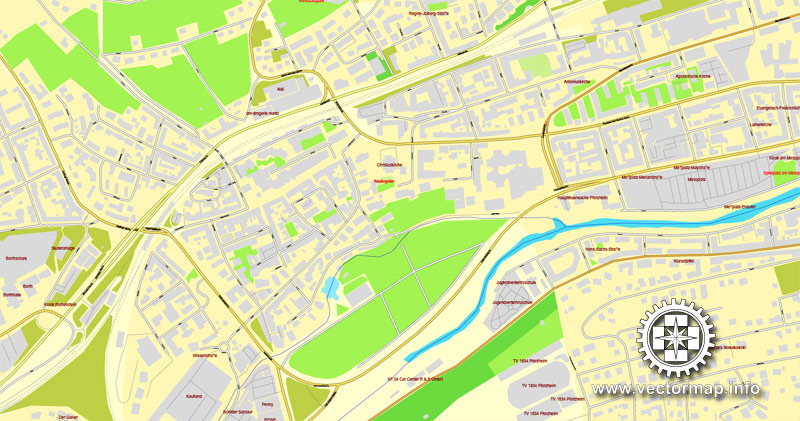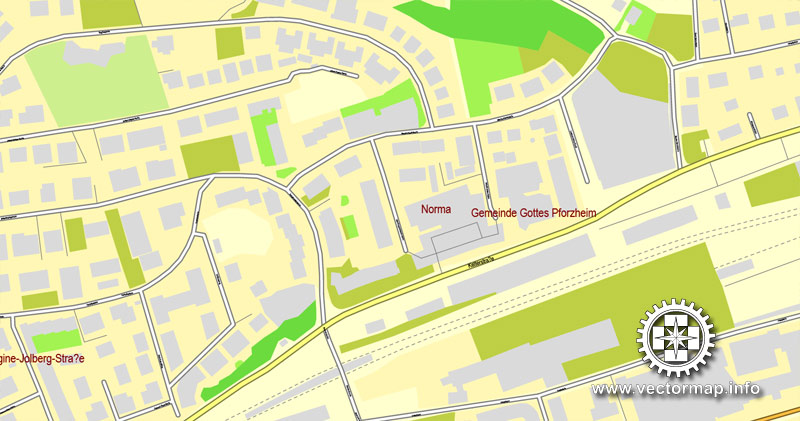 ---
Pforzheim is a city of jewelers
Pforzheim, a city in southern Germany near Stuttgart, is known primarily for its workshops for the production of jewelry and watches, which is why it received the informal names "Golden City" and "Gateway to the Black Forest". Pforzheim appeared about 2000 years ago as a Roman port settlement and has been completely rebuilt twice in its long history: the first time after the devastating fire of 1789, the second after the bombing of the end of World War II. Because of this, there are practically no ancient buildings preserved in their original form: most of the neat "gingerbread" houses, among which it is so pleasant for tourists to walk, are a new model of the 50s of the last century.
The city is developing intensively and attracts not only jewelry lovers, but also those who prefer cultural and educational tourism: there are many museums, churches, and an international high school.
Pforzheim is a German town that is worth visiting while traveling in Germany. Take at least one day traveling around the country to get acquainted with its highlights. This cozy city is relatively close to Karlsruhe and Stuttgart. He is familiar to many thanks to his jewelry stored in the local jewelry museum. Many people come here to buy spectacular accessories from local craftsmen.
In Pforzheim, you can also see some sights, which are quite few, due to the fact that the city suffered greatly during the war. Pforzheim is located on the territory of Baden-Württemberg and can be reached from anywhere in the country, as it is connected by road and rail with all cities in Germany.
Wildpark Pforzheim. The animals in this zoo are practically in the wild. Among its inhabitants, you can also notice domestic rabbits. Entrance to the zoo is free, and pet food costs only 2 euros. There is also a playground and a cafe on its territory. Pforzheim, Tiefenbronner Str. 100.
Museum of Jewelry (Jewelry Museum). Located in Pforzheim, it has a very interesting collection of various jewelry. The exhibition is spread over four decades, and when you look at it, you can see the development of the jewelry industry, its acquisition of a new, unusual avant-garde shade. Pforzheim, Jahnstr. 42.
Vehicle Museum. This museum of vehicles contains various cars and motorcycles of the past and present century. All the exhibits can be touched and viewed from the inside, which will especially appeal to children. Entrance to the museum is paid and costs 5 euros. Pforzheim, Albtalstr. 2 | Marxzell. Opening hours: 14:00-17:00. Schmuckwelten. Here you can buy great souvenirs in the form of jewelry or wristwatches. Many of them are made by major brands, while others are exclusive jewelry. Here you can also learn about the development of this production, the work of jewelry enterprises. Pforzheim, Westliche Karl-Friedrich-Strasse 56. Opening hours: Mon.-Sat. 10:00-19:00.
Technical Museum (Technisches Museum). When visiting it, tourists will learn how the development of the jewelry industry took place. On its territory, many machines have been preserved, where jewelry was produced, engraved and enameled. Upstairs there is a watch workshop where you can see and learn how to repair watches. Pforzheim, Bleichstrasse 81. Opening hours: wed 09:00-12:00 and 15:00-18:00.
Kulturhaus Osterfeld. In this institution, visitors can see various productions - from comedies to theatrical plays. In the same place there is a small cafe where juices and water are sold. Pforzheim, Osterfeldstraße 12. Opening hours: Mon. 11:00-23:45, Tue.-Sun. 10:00-23:45.
St. Michael Schlosskirche. This church was built in the 12th century and in its building there is a coffin of Hauser and the graves of the Margrave of Baden. Particular attention is drawn to the choir and the windows in the nave. Pforzheim, Erlenweg 1.
---
Gallery of Images "Urban plan Pforzheim Germany pdf":
---