Vector Maps: Twinning Pau: Multi-Platform 3D for a Royal City 
Helicopter, UAS, and terrestrial data give the ancient city of Pau a modern 3D "twin."
Featured image: Cities around the world are seeking "digital twins" to plan, analyze, operate and design. Pau, France, is on the cutting edge with its 3D model (mesh). On the right of these images is the actual city. On the left is the 3D mesh, that can serve as the spatial foundation for a digital twin.
The ancient royal city of Pau is set beautifully between the Pyrenees mountain range and the ocean at the extreme south-west tip of France. Known as "The City of Art & History," it has always had an innovative and  progressive approach to adopting new technologies. Pau developed high-speed Internet access via one of the first fiber-optic network infrastructures in the early 2000s and has recently launched its own hydrogen buses network. 
With an area of 12 square miles, Pau is the main city of the Pau Béarn Pyrénées Agglomeration council, spanning 31 councils and covering 150 square miles. As part of its smart-city approach, the agglomeration council actively develops and maintains a repository of digital data to improve knowledge, management and the prospective development of its heritage and its territory.  
Late in 2019, it acquired a ground-breaking 3D mesh model of the entire area. It is probably one of the most advanced depictions of an innovative approach to capture and deliver a multi-scale 3D reality model. The seamless model brings together cutting-edge technology, multi-platform data capture and processing to deliver a fully immersive and interactive experience from the sky to the ground. 
A major focus was the City of Pau (including its historic old town), which was executed by Aerometrex and its French partner IGO. The project is a ground-breaking implementation of the science of massive multi-ray photogrammetry, involving the geometric reconstruction of more than 100,000 2D images taken from multiple platforms such as helicopter, drone and street-level (including terrestrial laser scanners).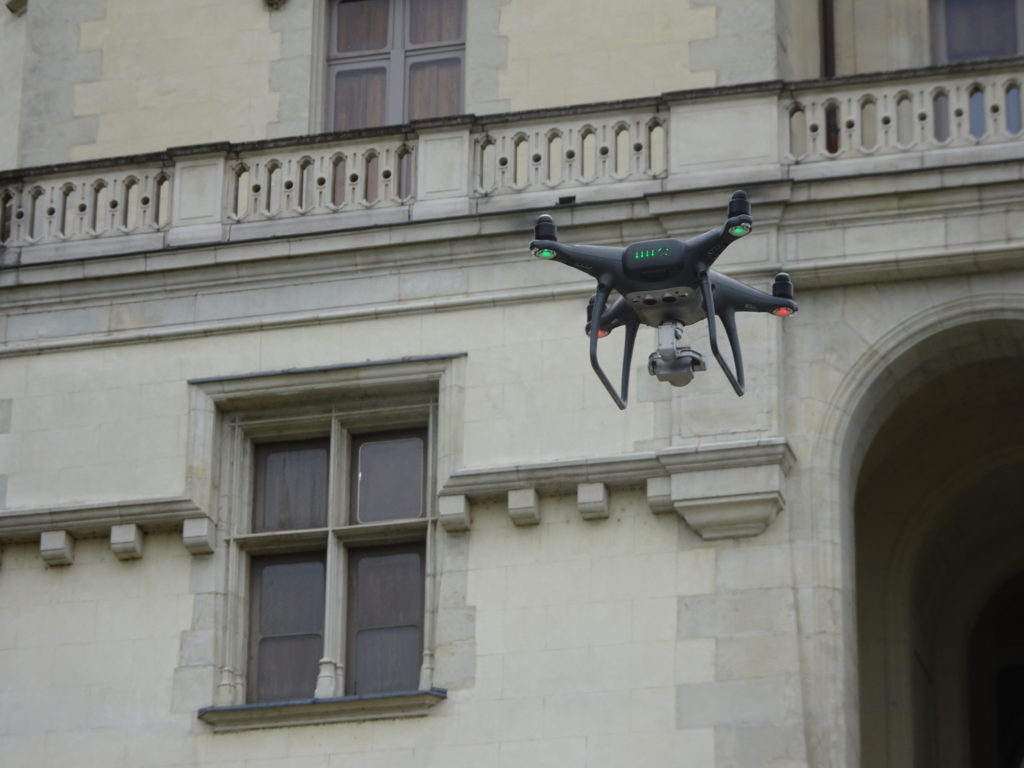 The model delivered resolutions ranging from two centimeters up to three milimeters, all stitched into a single 3D city mesh, enabling seamless interaction by users. The ability to process the massive volume of data (over 5TB) generated by these three perspectives over a whole city center into a photo-realistic 3D environment provides users with an unparalleled immersive visual experience and Aerometrex with a clear lead on the 3D modeling service market world-wide. 
The whole agglomeration council area has been captured by GEOfit using a fixed-wing aircraft equipped with Vexcel UltraCam Osprey (frames resolution of four to eight inches) and processed by IGO using Skyline Photomesh. The City of Pau has been captured from a helicopter platform by Aerometrex and completed with drone captures over specific landmark buildings such as Chateau de Pau in the city center, as well as street-level capture in the old town.  
Triangulation has been performed using the powerful capability of Agisoft Metashape and the reconstruction of the 3D mesh performed in Bentley ContextCapture. Things such as cars, people and distorted glass windows and facades have been corrected to generate a clean, accurate and seamless multiscale 3D mesh.  
The resulting 3D meshes have been integrated into the interactive 3D platform Skyline TerraExplorer Pro/SkylineGlobe along with additional GIS information and geospatial data to provide internal and external stakeholders with a desktop/online data portal and powerful 3D capabilities, including analysis, design and communication tools. 
"The combination of very high-resolution shots and the surface treatment make it a first on a European scale," says Marc Serraf, director of AEC Informatique, the company in charge of project management assistance. The multitude of opportunities that this 3D model shall open to the community, businesses and individuals include: 
Town planning: It is in town planning that the 3D model offers the most direct applications. Architects or engineers will be able to understand the positioning of a building before its construction in a dynamic context. It is possible to entrust pieces of the model to these firms so that they can deposit digital sketches within the framework of building permits.
This would allow all stakeholders to observe the real estate project from all angles: facades, colors, textures of materials, etc. Public decision makers would also have a tool to anticipate urban development and land use planning. 
 Transportation and traffic: The region's public transport services should be among the most interested users. They will have the possibility of foreshadowing the impacts of a change of direction of traffic on an arterial route. Similarly, the Mixed Urban Transport Union will be able to virtually drive its buses through the model in order to determine optimal path. 
 Economics: In tourism, the model can be a real ambassador for the city. People can walk like pedestrians in a virtual space. Nothing prevents enriching this tool with references from merchants, companies or services, so that the viewer can click on a front door or storefront and switch either to their website or to the digital model of the interior of the building. This 3D city model should also prove to be a great asset for attracting potential investments by showcasing it both visually and technically existing and future developments. 
 Risk management: The model, based on the reality of dimensions and shapes, becomes a support used for simulating floods or installing video surveillance cameras. Any deterioration of the architectural heritage can also be monitored by comparing the images over time. 
 Urban logistics: The 3D model can be at the origin of the creation of a single control center grouping several supervision missions (lighting, energy, roads, video surveillance, public buildings, parking, etc.). A citizen spotting a damaged pole, a blown bulb or something to remove on the road, can report it and locate it with precision. It can also be used for simulation in night lighting of public spaces. Urban assets are mapped with utmost accuracy within the 3D model, and their real-time status can support numerous maintenance teams and service providers. 
 Prior to providing services in Europe, Aerometrex has been involved in high profile 3D city modeling in the USA with the acquisition, processing and delivery, in record time and unprecedented detail, of the city center of Philadelphia. This 3D city model was used for planning the Pope's visit and helping to engineer the complex logistics for this historic event. Parts of San Francisco and Lower Manhattan have also been modeled using one-inch, high-resolution imagery.  
Aerometrex's managing director Mark Deuter said, "This project illustrates the global reach of our 3D modeling service as well as our 3D technical expertise. The 3D model of the City of Pau has set a standard that could be the envy of other municipalities in Europe. We intend to capitalize on this exposure by working closely with our sales channel partners and customers in Europe and the USA in 2020." 
According to Aerometrex U.S. president Rick Cassidy, "The U.S. 3D market is in its early stages and demand for high-resolution 3D city modeling is growing. With Aerometrex's established 3D portfolio of offerings, advanced technology capabilities, and global customer success stories, our U.S.-based operation in Denver, Colorado, is well positioned to take on new opportunities and provide cutting-edge 3D modeling services all around the country."