Vector Maps: The Netherlands, Super Mario style[[MORE]]…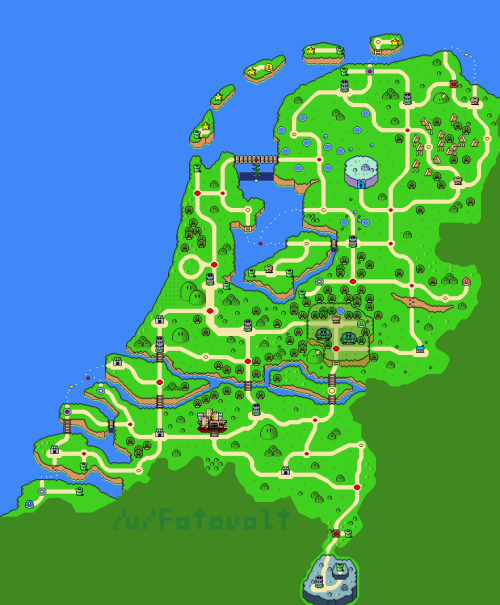 The Netherlands, Super Mario style
Fotovolt:
Some Dutch features/landmarks I tried to resemble in my map:
"De
hoge Veluwe" is a nature park on a slightly higher (up to 100m above
sea level) that is represented by the dark forest area centre east on
the map.
The road between Utrecht and Amsterdam is a wider path, resembling the A2 highway.
The rocks in the nort-eastern part refer to the ancient structures called hunebedden
Bowsers castle refers to the Efteling which is a big amusement park (that also has an castle).
A circle in the west refers to the GP circuit of Zandvoort
The block of ice world in the middle/north refers to Thialf which is a ice skating track, very well known in the Netherlands.
The hill with the bandage refers to the WWII cemetery and Airborne Memorial in Oosterbeek
(Source: reddit.com)