Vector Maps: Climate in the US by county [[MORE]] Bob_0101:…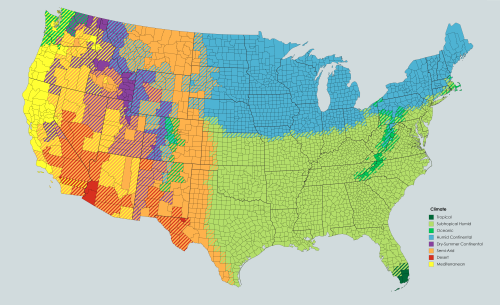 Climate in the US by county
Bob_0101:
Obviously, climate doesn't follow state and county borders, so it's common for some counties, especially in the West where high elevation causes quick environmental changes, to have two or more types of climate, so I reported the most significant ones, not including micro-climates limited to small areas.
Down here you can find a brief description for each climate; note that every climate has its own variations depending on geography, latitude and elevation, so keep this in mind while reading the map. Honestly, I find the related Wikipedia article particularly thorough.
– In a humid subtropical climate, summers are typically long, hot and humid. Monthly mean summer temperatures are normally between 24 and 27 °C (75 and 81 °F). A deep current of tropical air dominates the humid subtropics at the time of high sun, and daily intense (but brief) convective thundershowers are common. Summer high temperatures are typically in the high 20s to mid-30s °C (80s or 90s °F), while overnight lows in the summer are typically in the lower 20s °C (70s °F). Monthly mean temperatures in winter are often mild, typically averaging 7.5 to 16 °C (45.5 to 60.8 °F). Daytime highs in winter normally are in the 10 to 16 °C (50 to 61 °F) range, while overnight lows are from 2 to 7 °C (36 to 45 °F), though the poleward boundaries of this climate feature colder temperatures.
– Tropical climates are characterized by monthly average temperatures of 18℃ (64.4 ℉) or higher year-round, and have high levels of precipitation. There are no remarkable seasonal variations in tropical climates.
– Oceanic climate generally features cool summers and cool but not cold winters, with a relatively narrow annual temperature range and few extremes of temperature. Oceanic climates are defined as having a monthly mean temperature below 22 °C (72 °F) in the warmest month, and above 0 °C (32 °F) (or −3 °C (27 °F)) in the coldest month. It typically lacks a dry season, as precipitation is more evenly dispersed throughout the year.
– A humid continental climate is typified by four distinct seasons and large seasonal temperature differences, with warm to hot (and often humid) summers and cold (sometimes severely cold in the northern areas) winters. Precipitation is usually distributed throughout the year. The definition of this climate regarding temperature is as follows: the mean temperature of the coldest month must be below −3 °C (26.6 °F) and there must be at least four months whose mean temperatures are at or above 10 °C (50 °F). In addition, the location in question must not be semi-arid or arid.
– Dry summer continental climates exist in high altitude areas near Mediterranean climates. In some cases, the semi-arid climate can also be considered to be continental as long as it has cold winters. The definition of this climate regarding temperature is as follows: the mean temperature of the coldest month must be below 0 °C (32.0 °F) (some researchers use −3 °C (26.6 °F) for this threshold) and there must be at least four months whose mean temperatures are at or above 10 °C (50 °F).
– A semi-arid climate is the climate of a region that receives precipitation below potential evapotranspiration, but not as low as a desert climate. Hot semi-arid climates tend to be located in proximity to regions with a tropical savanna or a humid subtropical climate. These climates tend to have hot, sometimes extremely hot, summers and warm to cool winters, with some to minimal precipitation. Cold semi-arid climates tend to be located in elevated portions of temperate zones, typically bordering a humid continental climate or a Mediterranean climate. Cold semi-arid climates usually feature warm to hot dry summers, though their summers are typically not quite as hot as those of hot semi-arid climates. Unlike hot semi-arid climates, areas with cold semi-arid climates tend to have cold winters.
– The desert climate is a climate in which there is an excess of evaporation over precipitation. The typically bald, rocky, or sandy surfaces in desert climates hold little moisture and evaporate the little rainfall they receive. In hot desert climates, stable descending air and high pressure aloft create hot, arid, conditions with intense sunshine. Hot desert climates are generally hot, sunny and dry year-round. Cold desert climates usually feature hot (or warm in a few instances), dry summers, though summers are not typically as hot as hot desert climates. Unlike hot desert climates, cold desert climates tend to feature cold, dry winters.
– A Mediterranean climate is characterized by dry summers and mild, wet winters. Similar to desert climates, in many Mediterranean climates there is a strong diurnal character to daily temperatures in the warm summer months due to strong heating during the day from sunlight and rapid cooling at night. In winter, the subtropical ridge migrates towards the equator, making rainfall much more likely. As a result, areas with this climate receive almost all of their precipitation during their winter and spring seasons, and may go anywhere from 3 to 6 months during the summer and early fall without having any significant precipitation.
(Source: reddit.com)