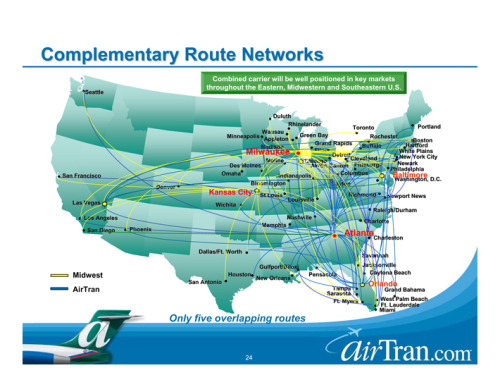 AirTran-Midwest proposed merger map, 2007
AirTran Airways proposed merger with Midwest Airlines route map from a July 2007 presentation.
Continuing on the theme of mergers that never happened, AirTran sought to acquire Midwest in 2007 to bolster its network with the airline's Milwaukee and Kansas City hubs. Midwest was ultimately sold to an investment consortium that included competitor Northwest Airlines. AirTran went on to build its own Milwaukee focus city.
We know that merger maps are generally put together in a hurry but this really does feel a bit of a copy-paste-job. Colors and labels overlap, routes are difficult to follow, all hallmarks of poor map skills. Maybe a sign that the merger was never meant to be!