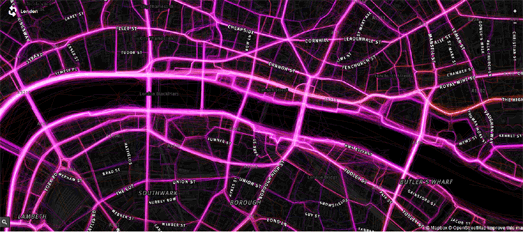 One of the most popular posts on Maps Mania in 2014 looked at the heat maps generated by joggers and cyclists using wearable technology. You can also illustration graphic design of World vector maps free. One of these maps was Mapbox's '1.5 Million Walks, Runs, and Bike Rides', created using data from Runkeeper users.
Mapbox has now updated that map to include 150,000 additional routes and higher levels of zoom. Mapbox were able to achieve this extra detail by using Tippecanoe, a library developed by Eric Fischer for making vector tiles from large data sets. You might remember Eric's 6 Billion Tweets Map, from earliest this month, which also made great use of Tippecanoe.
The Superpowered 1.5 Million Walks, Runs, and Bike Rides map overlays Runkeeper routes on top of a Mapbox powered map of the world. The map
includes some quick links to jump to the maps of a few major cities
around the world and you can also pan and zoom the map to view the popular
running routes at any location in the world.

If you zoom in on the map you can view the recorded tracks right down to sidewalk level. Zooming down to sidewalk level allows you to observe the inaccuracies in the GPS data. There are lots of tracks where people seem to be running through buildings or on top of rivers. However, despite the inaccurate data, roads and sidewalks still emerge from the data due to the huge number of tracks being mapped. Source